"Making your first sale online is as important as it is necessary"

– Neil Patel
Every time I start a new business, I would spend hours, working on the best way to get that first sale. Back then, I was always worried about my first sale because it represented so many things.
It was proof that I was doing something right.
Any time I got it, I became more confident, more motivated, and convinced that I was doing the right thing.
Every time I struggled to get it, I was so sure, I was doing something wrong.
Last week, I sent an email, asking everyone subscribed to my newsletter what topics they preferred.
A lot of the replies had the exact same question. "How do I get my first customer online?
I was shocked. I did not know other business owners struggled with this.
I still remember 2015, I had just signed up with a network marketing company. It was a health and wellness company. I invested N70,000 in the business but I was worried I was going to lose it all. I was worried because I didn't know who to sell the products to.
My elder sister, who was my up-line, showed me a simple way to get my first 10 customers. The method was simple and straightforward. The first time, I tried it, I was scared because I thought it would not work but I did it anyway and it worked. I got 7 people to buy my products at N10,000 each.
This was the motivation I needed. I was convinced. I made up my mind to go all in but the company had other plans. In less than 2 weeks after my success, they packed up and left Nigeria. When they left, my desire died and I forgot about the strategy until 2020.
In 2020, I created my first information product. Content marketing was the path I chose to get the first few sales. I was going to host workshops and speak at marketing events. I had it all figured out but by March, the whole world was locked down. My plans were shattered-what do I do?
I still hadn't sold any of my new products yet but I was using Twitter to create awareness and build anticipation for it. The product showed businesses how to create content that sells the product or service they market.
A huge part of my plan to create awareness was to give free and helpful information about sales. Every day, I shared a success story or advice, a tip, a quote, or a joke about sales. On the day I wanted to share the story I just told you about my elder sister, I had a wild thought.
What if I used the strategy she taught me to sell a paid class where I'll teach the attendees how to use her method to get their first customers too?
I knew it would cost me nothing to invite them to the class.
I also knew it would cost me almost nothing to teach them and if they attend, I will be paid. That day, I sent out DMs to 19 of my most active Twitter followers. I used the exact same message she showed me 5 years ago. I didn't change anything.
18 responded.
7 were unable to attend.
11 paid and attended the class.
I was sure it was just pure luck, so I tried it again and again and again. It worked every single time.
Today, I will show you what I did and how I did it, so you too can get your first few customers on a shoestring budget.
To successfully sell anything you need leverage.
Each one of us has leverage. We all have leverage in our network or as an authority on a certain topic.
This is why when you start a business, it is normal to want to present your product or service to the people you know. You are trying to leverage your network.
There are 2 things that determine the response you get from your network. They are;
1. Your level of influence and,
2. What you're asking for.
Influence takes time to build.
At the end of every sales presentation, you must make a request to your audience. Some ask for the sale, some expect the prospect to automatically want to buy. Sales do not happen all the time, but it is careless to expect they will want to buy.
Apart from asking for the sale, there are other outcomes most don't pay attention to. They do not pay attention to it because they do not know it has the power to get them sales too..
Asking for feedback from prospects, customers and clients have the power to get you more sales, especially if you're just starting out.
When you're trying to get your first few customers, feedback should be the only thing on your mind.
Why?
You know your product is good, but you're the only one who knows this. Others don't.
The only they will know is if you get them to use your product or service. If you give it out for free, that's a loss for your business. We all know people do business with people they KNOW, LIKE, and TRUST. The people who know, like, and trust you are usually people in your network, your family, friends, and acquaintances.
You can try selling it to them but without a certain level of influence, they will not buy what you're selling, even if you ask nicely. So what should you do?
Execute the 2 Step Instant Message Sale Strategy.
The technique involves sending 2 messages with the aim of soliciting unbiased feedback and insight about your products and services. It leverages the fact that the people who know, like and trust you will want to be a part of your success story. The messages are simple and easy to customize for any business.
The first message you send is.
Hey [First Name], I [just started/launched/revamped/tried/made] [a new business/product, am hosting a class] and could really use your help. It's very simple. Reply so I can send you some more details.
What is the thought process behind this?
1. The entire text is a request for help. This approach immediately lowers the objection barrier.
2. It creates an environment where anyone can present an offer in a way that is not imposing, threatening, or offensive. Hidden in the words "I could really use your help" is a subtle but very cultured way to ask for help. But not just that, it invokes a desire within the recipient to serve.
3. The last line "reply so I can send you more details" sparks curiosity. Anyone that receives this type of text, will often respond because they want to know more. From experience, the answer you get is often "Yes, ok", or "Send me more details."
To get the entire template, you have to purchase the 2 Step Instant Message Sales Template.
The great thing about it is that you can send these messages through WhatsApp, SMS, Facebook, or DMs. It literally costs nothing to send.
Let's say your product cost N10,000, and you send the messages to 20 people. If 1 person buys, will it be worth it to you?
What if your product cost N5,000 and you send it to 20 people. If you get just 1 sale will it be worth your while?
How about if you get 1 sale on a product that cost N1000 or a product that cost N500? Will it be worth it to you?
Most of my students who sold products below N10,000 got between 2 and 7 sales on every 20 names.
This month, one of them got 20 orders.
She didn't spend a dime on ads yet she got customers who were willing to pay. This is what she sent me.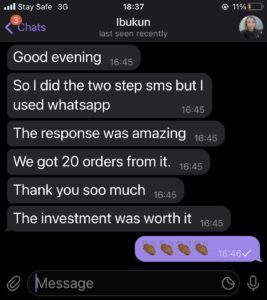 If you're really serious about getting your first sale without spending any money on ads, the 2 Step Instant Sales Template is the next logical step.
BUY IT because it will help you get more sales, nothing more,
BUY IT because it is the next logical step in your business journey,
BUY IT because it is straight-up fact, no fluff, no hype.